This is a simple story.  There was a want and a need.  This family wanted a customer design corner desk unit, and they felt the need to contact the right company.
They presented me a picture of about what they wanted (see to the left).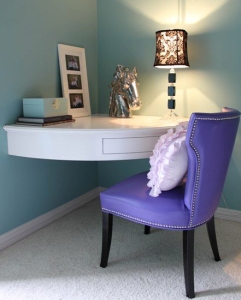 Made a few adjustments to aide in the feat, and there it was.  As you can see, through delicate planning, milled designing and a full radius of a section corner, as each layer is precisely placed, it becomes a work of art. With ported wire harness, pencil/paper drawer to fit the daughter's height and the space saver to be the need.  It was exactly what was wanted.  Their nicely created plan turned out to be one of the families latest accent pieces that will forever enhance the quality of their home.
Yes.  Its that simple.  Its, "Specialty Millworks".